American researchers conducted a survey among several hundred men about their sexual preferences. Most of them said that they liked the rider position because: first, the woman takes the reins of power in her own hands, secondly, they really like the view that opens up in this position, and, thirdly, they want to enjoy themselves without making any effort to do so.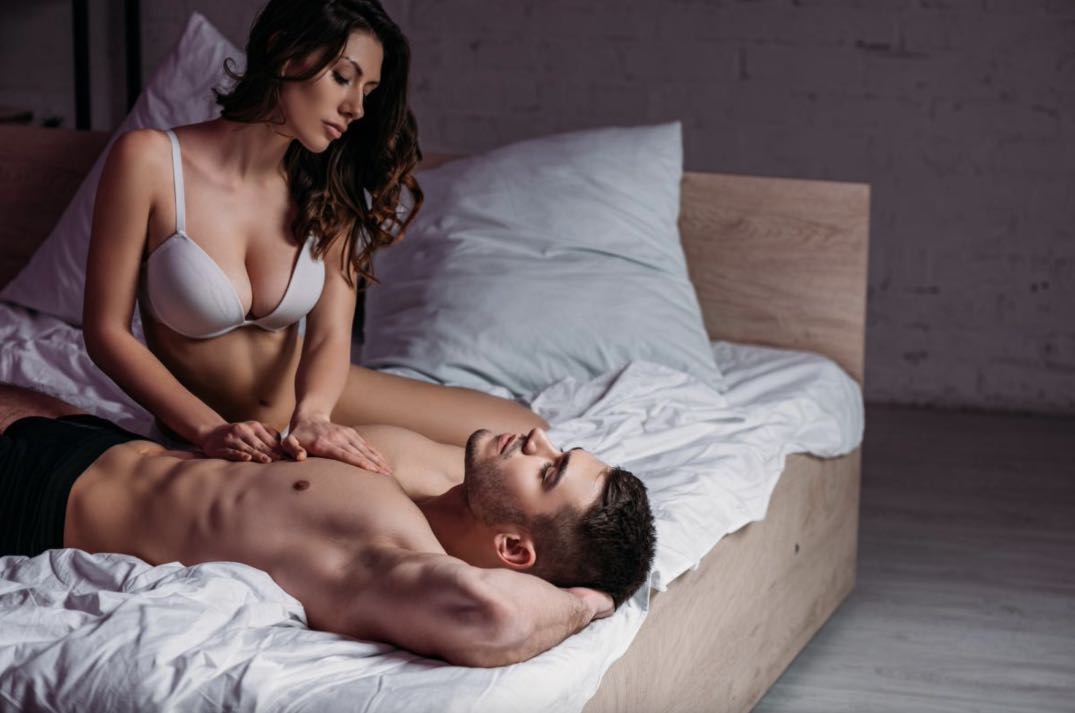 This pose is perfect for quickly achieving orgasm in women. It allows you to control the angle and depth of penetration, set the pace and change it in the process.
But there are other benefits - the clitoris and g-spot are stimulated.
You command the parade
Nothing has such a positive effect on a man's self-esteem as the ability to satisfy his partner.
If you are on top, the partner does not need to worry about you, since all the responsibility falls on your fragile shoulders. And at this time, he may just relax and have fun.
When a woman offers to make love in the pose of a rider, this indicates her great desire, which in itself is not a joke turns on.
In addition to the fact that this pose is a first-class gift for a man, so you can experiment. Change the angle, leaning forward and back, slow down, allowing the penis to enter and exit inch by inch, press your whole body against your partner to stimulate the nipples.
What a view!
If you sit facing him, he enjoys the sight of swaying breasts, and if the back – then he admires the delicious buttocks. Men love, first of all, with their eyes. They focus on the picture much more than women. A seductive image serves as the main key to their arousal. To make the view hit the guy even more, straighten your back and bend in the lower back - so the waist will visually narrow, and the breasts will increase. Not the last role is given to your self-esteem at this moment. The more confident you feel, the better the sex. When you look into his eyes, clouded with desire, it is hard to doubt that you are beautiful. As a result, each kiss and touch become even more sensual and give a truly unearthly bliss. You may not take off your bra, play with your hair or nipples.
Hot spots within reach
In doggie style and missionary pose, some sensitive areas are left out, and thanks to the rider's pose, it is possible to use them all. Kissing, touching, and stroking during intimacy elevates the sensation to a higher level. You may gently nibble his nipples, kiss, lick, lightly scratch his stomach and chest, and squeeze the inner surface of his thighs.
The rider's pose allows you to guide the man. Take his hands in your own and put them wherever you want — on the buttocks, breasts or lower abdomen.
Gravity to help
When a man is lying or sitting on the bed, and you are on him, the pressure of your body allows him to penetrate even deeper. This not only gives you both great pleasure, but also has a beneficial effect on his self-esteem.
Men like to go deep because it makes them feel bigger, more powerful, and cooler. There are still a couple of bonuses in deeper penetration. First, you are in close contact with the area of his testicles, further stimulating this sensitive area. To get a better feel for this, make circular movements with your hips, narrowing and increasing the radius. The second bonus is that your pubic bones are pressed together, and the deeper he penetrates, the more he stimulates the clitoris, and in the meantime you are getting closer to orgasm. Try to move back and forth to enhance the effect.
He may last longer
Being on top, a man may choose the right pace and amplitude of movements, which will quickly provide him with an orgasm. However, does he know that stretching the process will only increase the pleasure? If you are on top, then it is you who control him and your orgasm.
Women are fonder of «grinding» movements, while men like to go in and out to cum faster. Stick to your own rhythm, and then the partner will stay in the game longer. Try savory pauses. Ask the man to come out of you about halfway through sexual intercourse and slide the penis between your labia. He will be happy with this respite and will also be able to stimulate your clitoris. If you feel that he is about to come, pause every 5-10 thrusts for a hot kiss – this will slightly pacify him.